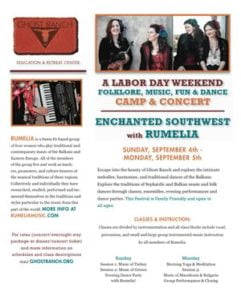 Rumelia is excited to announce a special weekend event at Ghost Ranch!
We are working with a theme of folklore, society, and change for an element of reflection, discussion, gathering and sharing.  The Ranch promotes this sort of togetherness and I have seen it work really well with their groups. We are excited to have been asked to present this event by the ghost ranch staff, and hope you will be able to share in this first camp!!
—With love, Deborah, Alysha, Nicolle and Sitara
REGISTER BY AUGUST 15 FOR A 15% DISCOUNT USING CODE: RumeliaFriends
For more information and pricing: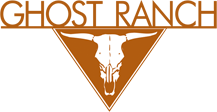 https://www.ghostranch.org/retreat/enchanted-southwest-rumelia/
Registration:
https://www.ghostranch.org/education/workshop-registration-form/?id=24286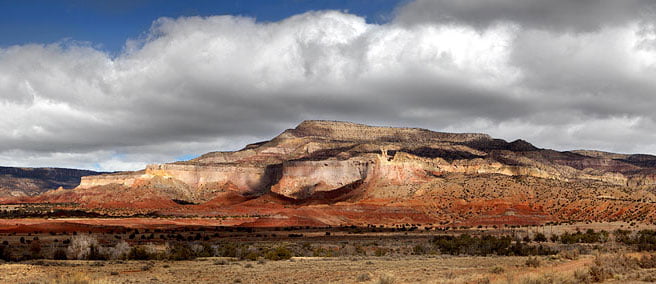 Class Descriptions
Instrumental Ensembles
Sitara Schauer, violin, and Deborah Ungar, accordion and clarinet, will be teaching the Balkan ensemble classes. These all-levels classes will explore harmonic and melodic phrasing, rhythmic and chordal techniques, ornamentation, improvisation, harmonization and stylistic variations for performing in and supporting a group as part of an ensemble as well as improvisation and soloing.
In Sessions 1 & 2 we will focus on our Greek and Turkish repertoire, and several Sephardic versions of the same songs, exploring stylistic nuances of this music as well as scales and embellishments characteristic of these regions.  In Session 3,  we will share traditional music of Macedonia and Bulgaria (hint: brass band, wedding band, dance band!).
We welcome ALL students on any instrument, and will split up our time between teachers to work with individual instrument groups (strings, woodwinds, brass). Folk music is traditionally learned by ear, but we will provide charts to help guide our progress. Whether this music is familiar or a new, unknown mystery, join us for some hot, fun Balkan tunes!  Audio recording devices are recommended.  Kids welcome!!
Percussion Classes
Frame Drum and Doumbek classes with Nicolle Jensen and Alysha Shaw will both orient beginners to basic sounds and tones essential to playing these instruments as well as introduce characteristic rhythms found throughout the Balkans and Middle East.  More advanced students will have the opportunity to explore intricacies of supporting dancers and various ensembles through variation, complex rhythmic patterns, and advanced techniques in fingerings. Whether you're an experienced player or it's all new, pick up a drum and join the band!
Vocal Classes
Anyone can sing! This is folk music, and was born of everyday folk. These workshops are open to all levels. Previous experience and sight-reading are not required. Songs will be taught mainly by ear, but lyrics and sheet music will also be provided. Recording devices are welcome.
The music of the Balkans and Turkey is incredibly rich and varied, having been lovingly passed down through countless generations. There are vast regional differences, yet common threads that weave through the entire region. Historically, vocal music accompanied almost every aspect of life: work and play, happiness and sadness, as well as formal and ritual occasions. Those familiar with the vocal traditions from this part of the world know that it embodies great emotional intensity, and resonates with people the world over.
The Balkan, Bulgarian, and Turkish vocal ensembles (Beginning, Intermediate/Advanced) will be taught by Nicolle Jensen and Alysha Shaw.  The intricacies of vocal techniques and styles for these varied regions and countries will be explored, as well as how to open your natural voice to find the unique placement and characteristic sounds found in traditional music of this area of the world.  Ornamentation, strategies for blending with singing partners, and understanding harmonic and rhythmic structures will be highlighted as we learn varied repertoire of the ancient mystical and mysterious portion of the world, where East meets West in a flourish of close harmonies and intense melodies.
Sephardic music with Alysha Shaw
This class will introduce students of all levels to a few Sephardic songs from Turkey, Greece and the New World, including New Mexico! Together we will explore the stylistic similarities to Turkish, Greek and Spanish music, variances depending on region and style, vocal ornamentation, and phrasing to different time signatures.
Maqam
Sitara Schauer, the violinist of Rumelia, will be leading the Maqam class on Balkan and Middle Eastern modes. These modes (or scales) contain the secrets of authentic performance practices of the music of the Balkans and the Middle East. We will investigate the intricacies of the phenomenon known as the quarter tone (half flat or half sharp) by learning how to find and play these notes independently and within specific maqam. You will leave the class with a few songs using quarter tones and an understanding of where they lie within each maqam for each song taught. This class is open to all instruments, and we will discuss how to reach each quarter tone on the different instruments in the class setting. We will also be discussing the difference between Turkish Makam and Arabic Maqam, and provide charts and study guides. Tuning your ear is the most important part of learning new notes/songs, and audio recording devices are welcome and recommended!
Dance
Share, learn and dance to the music of Rumelia with dance teachers from around New Mexico during the day and at the evening dance party and concert!
Mind/Body/Spirit
Yoga by Nicolle Jensen
Nicolle is a 500 hour certified yoga teacher within Prajna yoga school. Prajna yoga combines the alignment, anatomy, and therapeutic application of Iyengar yoga with the strength and vinyasa sequences of Ashtanga yoga. A powerful practice that embraces all levels, Nicolle provides a fun and safe environment for practice.
---
SCHEDULE
Sunday, Sept. 4
12:30 pm     Check-In/Registration
1:30pm        Welcome/Orientation
2:00pm        Session 1: Music of Turkey
3:30pm        Break
4:00pm        Session 2: Music of Greece
5:30pm        Dinner
7:00pm        Dance Lesson 
7:30pm        Evening Dance Party with Rumelia!
Monday, Sept. 5
7:00am        Mind/Body/Spirit – Yoga with Nicolle Jensen
7:45am         Breakfast
9:00am        Session 3: Music of Macedonia/Bulgaria
11:15am        Closing Performance
12:00pm      Lunch
Departure following lunch
---
Bios for Rumelia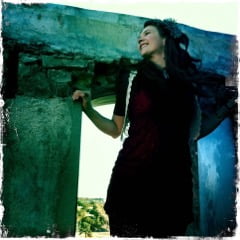 Nicolle Jensen
Nicolle Jensen, percussion and vocals, completed a degree in music and art at the College of Santa Fe.  She found Balkan music by accident and has been hooked ever since.  After playing with the  Balkan/Middle Eastern Ensemble at CSF under the wings of Polly Tapia-Ferber and Paul Brown, Nicolle and a few friends founded their first band, Mezcla, and then an all women's vocal ensemble,  Rusalki, whose debut Album  …Pearls from the Bottom of the Ocean… was one of five  2009 nominations for Best New Album of the Year in Santa Fe.  Nicolle has performed around the world, and continues to study, teach, and play Balkan music extensively as one of her many life passions.
Alysha Shaw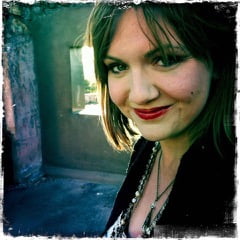 Teaching:  Voice and Percussion classes
Alysha Shaw is an interdisciplinary artist, musician, and community organizer based in Santa Fe, New Mexico. Shaw has studied and performed music from the Balkans and Mideast since 2006, specializing in vocals and percussion. She has studied percussion extensively with Polly Tapia Ferber, and studied regional vocal techniques from Bulgaria, Turkey, Greece, Albania, and Macedonia from a number of professional musicians from these respective countries. Her studies have brought her to Turkey, Bulgaria and Greece, and her performances have taken her across the United States. Shaw has a BA in Political Science and Interdisciplinary Art from the College of Santa Fe, and an MFA in Art and Social Practice from Portland State University. Her current work explores the intersections of art, social action, and folklore. Alysha is the Coordinator of the Lifesongs program at the Academy for the Love of Learning.
Sitara Schauer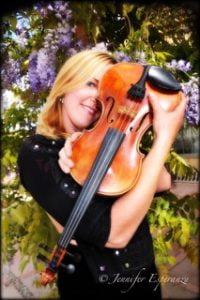 Sitara Schauer has been studying violin ever since she was a child. Classically trained by a strict Korean teacher she developed a strong foundation with proper technique, ear training and scale studies. What remained when she decided to get "out of the box" was the soulful sounds of the minor key.  The soothing sounds lead her to Arabic, Klezmer, Irish, Swedish, Tango, Gypsy and Balkan styles.  Since then Sitara has studied  maqam (Arabic and Turkish scales) with world renowned teachers. She performs with many different ensembles and professional musicians because of her versatility of genres.
Sitara has a string studio in Santa Fe where she privately teaches Violin to all ages and all styles.  She is knowledgeable of other stringed instruments as well, and to name a few, Mandolin, Guitar, Piano and Santoor.  She actively mentors orchestra in middle and high schools as an outreach program with Performance Santa Fe.  Having a degree in Violin repair comes in handy while she works at the Violin Shop of Santa Fe.
Deborah Ungar
Teaching: Accordion, clarinet, Ensembles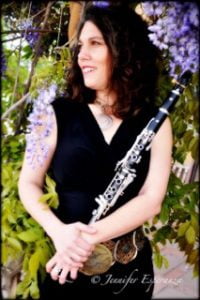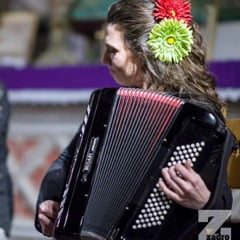 Deborah Ungar is a multi-instrumentalist with a background in International Politics, Economics, and Sociology.  Though she is a recognized performer and educator in classical genre, earning degrees in piano, music theory, and music education, the catalyst for reconnecting with her love of studying and performing world music began at San Diego State University, where she studied Finnish, Indian, and Afro-Cuban music in addition to clarinet and piano.  After moving to Santa Fe in 2007 she began intensively studying and performing music of the Balkans.  She has performed at world music festivals and in a variety of musical settings across the US and Europe.  Her recent work explores the roots of ethnomusicological practices of Balkan, Sephardic, and their interconnectedness through performances and education.  Deborah is Adjunct Faculty at the Santa Fe University of Art and Design Contemporary Music Program, World Music Instructor for the Mandela International Magnet School, Music Specialist at the arts-based Nava Elementary School, Woodwind Faculty with World Arts Woodwind Institute, and Education Manager and Curriculum Specialist for the Santa Fe Chamber Music Festival.  She currently performs with Rumelia, Rumelia Klezmer Band, and works as a freelance accompanist in and around Santa Fe.
Deborah Ungar performs on Bugari Armando Accordions, Amati G and LeBlanc Bb Clarinets.